Most of us started playing the guitar on a 6-string tuned to E Standard (EADGBE). Eventually, we started experimenting with alternate and Drop D tunings and the guitar handled it just fine. But, some of us wanted to go even lower... say, B Standard, Drop A, or even F# Standard. That's when we started noticing problems:
Lowest string felt too floppy
Lowest string sounded too muddy/boomy
Lowest string intonated poorly
Standard guitars weren't designed for super low tuning.
Without getting too technical, I'll just say this: lower notes require longer and thicker strings, while higher notes require shorter and thinner strings (that's why bass guitars are bigger than standard guitars). It's important to note that the lowest tuned strings are now getting into a frequency range that really isn't great when played on a standard guitar (assuming B Standard tuning or lower). In fact, they have already gone well into bass guitar territory... This is where the baritone guitar comes into play wonderfully.
Baritone guitars fill the gap between standard guitars and standard basses wonderfully.
The distinguishing feature setting baritone guitars apart from other guitars is their scale length. The scale length is determined by measuring the distance from the front side of the nut (where it joins the front of the fretboard) to the center of the 12th fret, and then multiplying that measurement by two. Standard guitars have a scale length of around 25"; standard basses are around 34". Baritone guitars, then, will have a scale length somewhere in between 25" and 34".
So, what's the best baritone guitar scale length?
Because baritone guitars are normally used by guitar players that want to play in lower tunings, and not by bass players that want to play in higher tunings, the overall feel of a baritone should be more like a guitar than a bass. For that reason, many of our baritone guitars are designed with 6 strings and a scale length falling somewhere between 27" and 30", depending on the tuning we're trying to achieve. I mention 6 strings because some folks think they need a 7-string guitar in order to tune down to Low B, and an 8-string guitar in order to tune down to Low F#, or beyond. But, this is not true, as we have just learned the key factor in improving the feel/tone/intonation at these super low tunings is the scale length, and not the number of strings on a guitar.
How does the scale length improve the floppiness, tone and intonation of the lowest string?
The key factor is string tension (measured in pounds). There needs to be enough string tension in order to get a good feel, tone and intonation. Scale length makes a significant impact on string tension. To determine string tension, let's focus on three variables:
Scale Length
String Gauge
Tuning
Basically, string tension increases when any of the above variables increases. To get a benchmark idea, let's take a look at the string tension for a standard guitar with D'Addario Super Light Gauge strings, tuned to E Standard: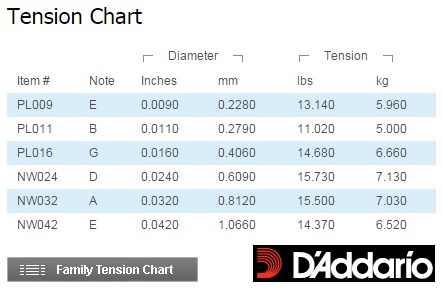 Let's focus on the Low E Note:
The Scale Length is 25.5"
The String Gauge is 0.042"
The Tuning is Low E (82.4 Hz)
We see from the chart that these variables result in a Low E String Tension of 14.37 pounds. This number might not be useful by itself, so here's a chart showing the differences in string tension when we change the string gauge (scale length and tuning remain the same):

OK, great - we can easily see that increasing the gauge increased the string tension. But, perhaps we already knew that. What we're concerned with now is what happens when we tune our guitars down to say, Low B. Here's a chart showing what happens to the string tension when we change the tuning to Low B (scale length and string gauge remain the same):

Yikes. We see that a standard guitar tuned to Low B will feel pretty wimpy even when strung with Extra Heavy gauge strings (Jazz Medium's, aka 13's). At this point, we only have two options to increase the tension and they are (1) to increase the string gauge even further, or (2) to increase the scale length. If we increase the string gauge further, then the tension will, indeed, feel better, but the tone and intonation will suffer. In our scenario, as the string gets thicker, the tone becomes boomier and less crispy/crunchy. The crispy/crunchy tone is what helps make an electric guitar sound like an electric guitar, and not a bass. In addition, the thicker strings might become impossible to intonate (thicker strings require the string saddle to be positioned further away from the nut in order to intonate properly, and often times there just isn't enough space physically on the bridge to allow for this amount of compensation). So, we're stuck with a guitar that doesn't intonate properly, and that makes for a bad sounding guitar.
This leads to the only remaining option: change the scale length. Unfortunately, a guitar can only be built with one scale length (let's ignore multi-scale instruments for now) and it cannot be changed once it's built. This is why baritone guitars are the perfect solution for those seeking to tune their guitars down to Low B and beyond - their scale length increases the string tension, which allows for a good feel, a good tone and proper intonation.
Let's take a look at what happens to the string tension when we increase the scale length (Low B tuning remains the same, and focus only on the heaviest string gauge: 0.056"):


Scale length increases string tension
Bingo. That's what we need. The increased scale length of a baritone guitar enables us to tune down to Low B and use a reasonable sized string, which helps us to:
eliminate floppy low strings
eliminate muddy/boomy sounding low strings
eliminate poorly intonating low strings
On a more personal note:
Sticking with 6 strings for low tunings is helpful for me when it comes to playing all the opened and barred chords I love so much... because the neck is narrower and there are less strings for me to worry about compared to a 7 or 8-string guitar! This MERUS 6-string Baritone Guitar gets my vote. It's a great value, a solid build and it excels at low tunings.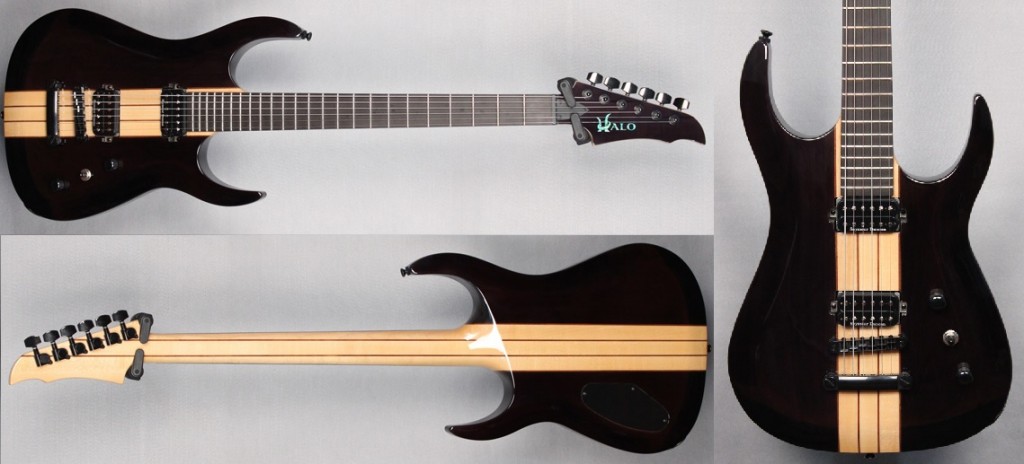 If you're going to be tuning to Low B or lower, then you should seriously consider a baritone guitar, which is essentially just a 6-string guitar with a longer scale length. The longer scale length improves the overall feel, tone and intonation for those low tunings.