For Endorsement Consideration, please click here
Thank you for your interest in Halo Custom Guitars & Basses.
For endorsement consideration, please submit the following information:
Band Photo
Band Bio & Fact Sheet
Press Coverage (Album Reviews, Live Show Reviews, Interviews, Articles, etc...)
Demo of Music
Other Endorsements
Contact Information
We prefer Electronic Press Kits. Please send them to artist@haloguitars.com.
You may send a Physical Press Kit to our shop located at:
Halo Custom Guitars
21621 Stevens Creek Blvd.
Cupertino, CA 95014.
We look forward to hearing from you. Thanks!
Sean Delson: Agent Cooper, Stuck Mojo, Fozzy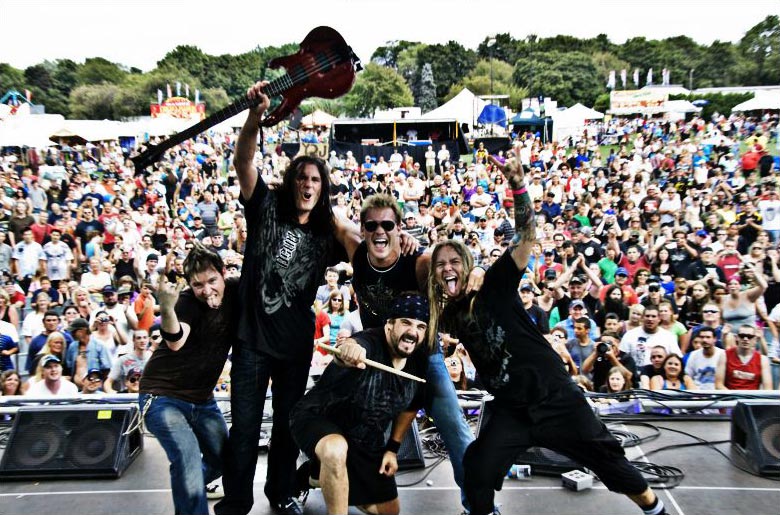 Sean Delson, bassist for Agent Cooper, Stuck Mojo and formerly of Fozzy, has a collection of Halo basses ranging from stock models to full-on custom made (Sean is pictured below holding the red Halo bass).
Here's what Sean had to say about Halo:
I have been waiting until I had thoroughly put the 5 string Halo Spawn Bass through a multitude of testing. I must say, you have built nothing short of, a WORK OF ART. The bass plays and sounds amazing! It actually is a relief to play compared to the other basses I currently tour with. And I thought they played pretty damn good. Where have you guys been all my life? It is an honor to be endorsed by you... I love the 5 string... Thanks so much,
Halo Custom Guitars and Sean Delson are currently developing "the perfect bass", that is, for Sean Delson and other bassists who need a bass to hold up to extensive touring and studio recording sessions. Be sure to check back for pictures of the prototype!
See if you can spot Sean in this music video from his former band... and also his bandmate, Billy Grey, who is seen rocking a Halo Goliath 6-string guitar!
---
AnAkA

Peter Pallis (left), of the band AnAkA, chooses the Halo Hellfire left-handed electric guitar for in the studio and on the stage.
Here's what he had to say about the custom Hellfire guitar we built for him (below):
MASSIVE job my brother. Thanks for putting the work into making this second to none... I am very excited to showcase this massive guitar on the "Erase" video. AnAkA & Halo are on the road to doing awesome things together. All the best,
Biography
Intense. Brutal. Uncompromising. Just a few words to describe the sound and presence of Brooklyn, New York Metal ensemble Anaka. Since its inception in late 2000, Anaka has left a blistering mark in the Heavy Metal and Hard Rock scene around North America and overseas.
---
Arcanium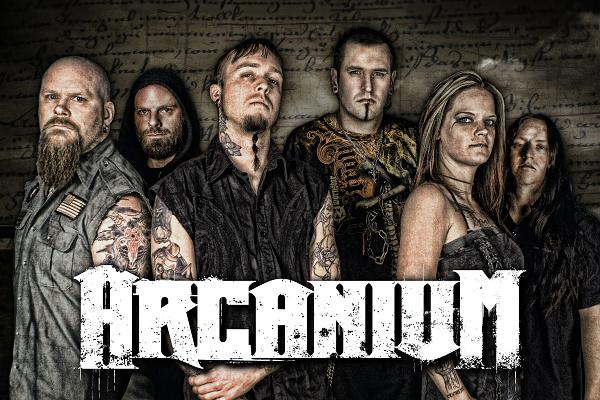 Halo is proud to endorse the guitar and bass players of the band, Arcanium (guitar: RIGGS; bass: SETH). Arcanium formed in March 2007 and has toured with bands such as Megadeth, Machine Head and Bullet For My Valentine.
Check out the guys from Arcanium as they play their Halo Reaper Guitar and Halo GVK Bass live on stage. The title of the track is, "Wicked".
Support Arcanium and check out their Facebook page.
---
Dissipate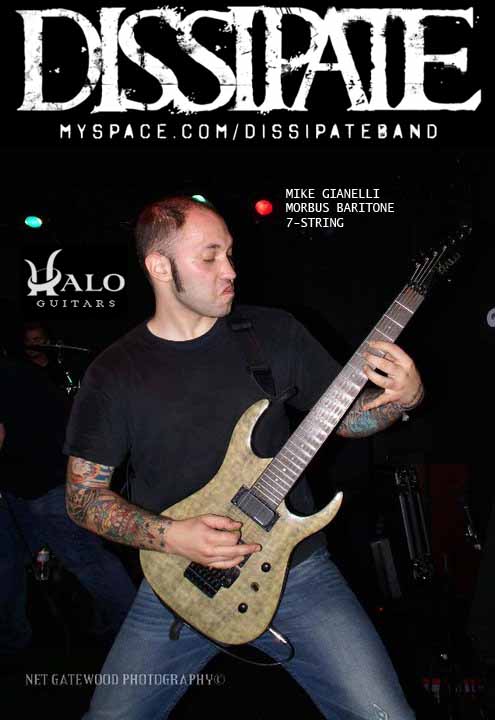 Mike Gianelli is the guitarist for Dissipate.
He owns a Halo Morbus Baritone 7-String guitar with Seymour Duncan Blackouts.
Check out this video of Mike playing a Halo Morbus 8-String Guitar at the Halo Shop located in Cupertino, California, USA:
---
Generation Kill
Rob Moschetti (Ex M.O.D / Pro Pain), has joined the Halo Artist Roster. Rob is playing bass for the new band GENERATION KILL, alongside Exodus frontman Rob Dukes.
---
HateFX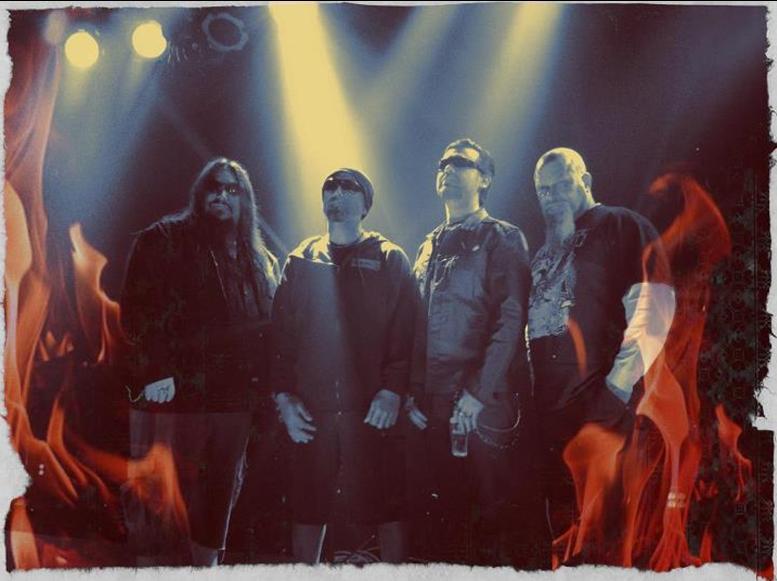 Halo proudly endorses HateFX guitarist/vocalist, "G", and bassist, "Jaymz".
They have an arsenal of Halo instruments including a Halo Custom Shop Goliath, Halo Reaper, and Halo Satyr Bass.
Check out the HateFX music video, "WDF".
---
NightShade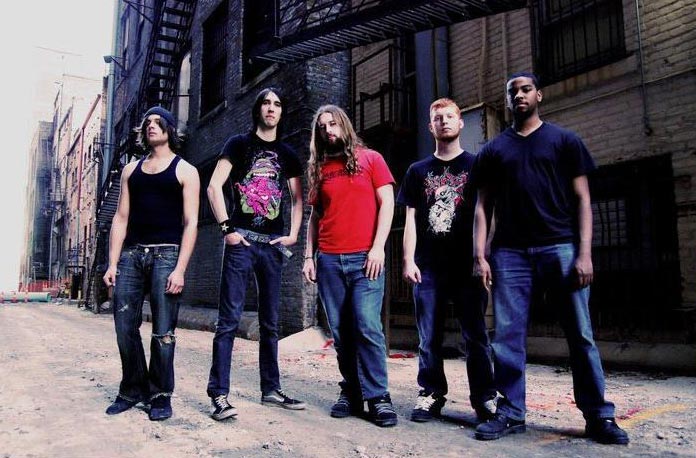 Bastien Deleule, guitarist and clean vocalist for French/American metal band "NightShade", can be seen touring and recording with his arsenal of Halo 6 and 7 string guitars (second from left).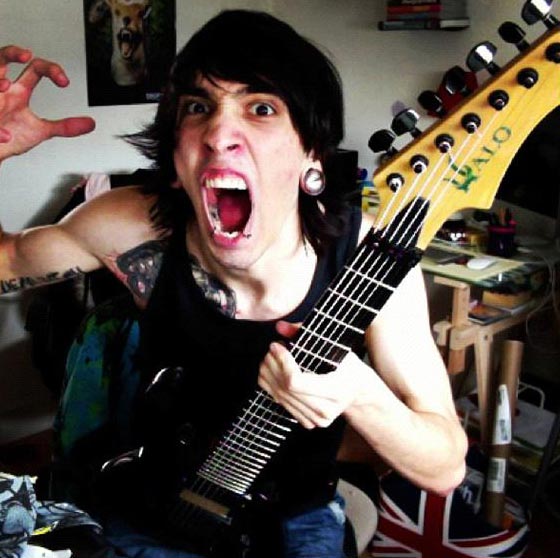 Halo and Bastien worked together on the design of his Halo Custom Shop Morbus guitar to meet his exact requirements. His custom Morbus is a baritone 7-string platform with neck-through-body construction, features Seymour Duncan Blackout Pickups, Original Floyd Rose Double Locking Tremolo System, and Ebony Fretboard.
Check out some of NightShade's music - it is HEAVY and contains some strong language.
---
Sonny Lombardozzi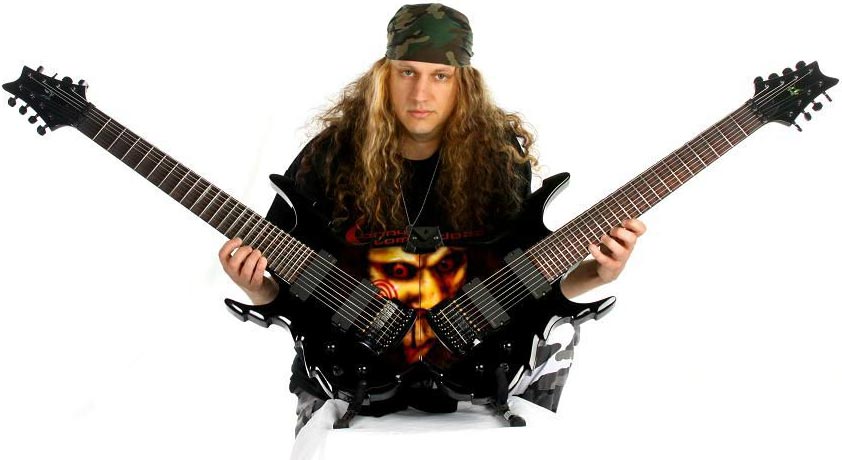 Sonny Lombardozzi is known for his ability to play a bi-directional double-neck guitar, and for his time spent as a touring guitarist for death metal band, Incantation. Now, Sonny is back with a new sound and incredible lineup for his new band, Sonny Lombardozzi Invasion. Needless to say, Sonny has very specific requirements for his instruments... and he trusts the Halo Custom Shop for all his instrument needs.
Sonny is also a professional guitar teacher in Erie, PA.
Here's a short video clip of Sonny and his Halo 8-String Octavia Guitar.
---
Upon A Burning Body