In March 2018, we decided to run a sweepstakes with the prize being a free custom build valued at up to $3500. The sweepstakes page is located here if you're interested.
In this blog article, I'll be posting updates as we document key stages of the build process, so you can see what goes on behind the scenes here at Halo in terms of actually building and bringing these custom guitars to life.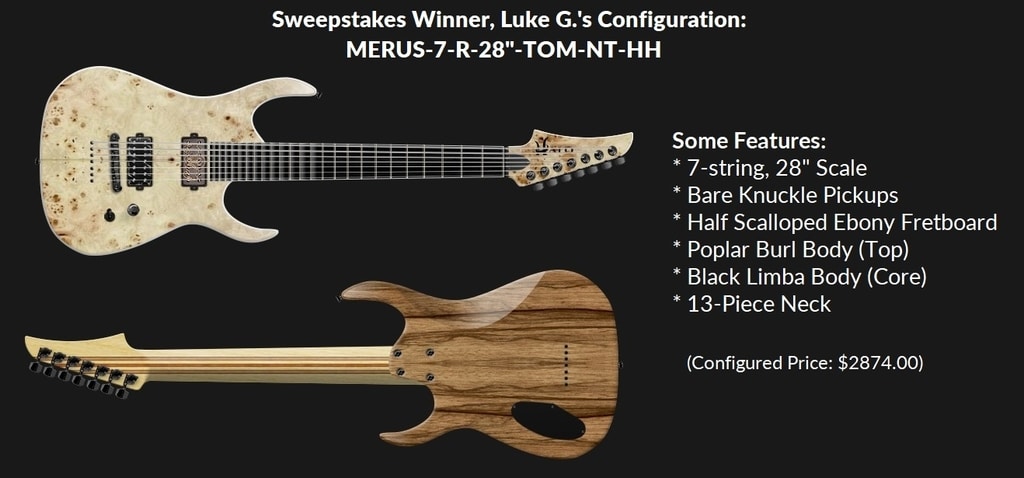 "I've always wanted to own my own custom guitar and being fortunate to have won this sweepstakes has made that dream become a reality. When I customized the guitar I wanted it to suit the heavy songs I like to play and write but also still have room for some nice cleans. This guitar will be a great addition to my arsenal and I can't wait to start writing new songs with it for my band, Hunt for Home." - Luke G.

Here are just some quick updates:
We're building the guitar body from one of these Black Limba body blanks we just received from one of our tone wood vendors, Maderas Barber: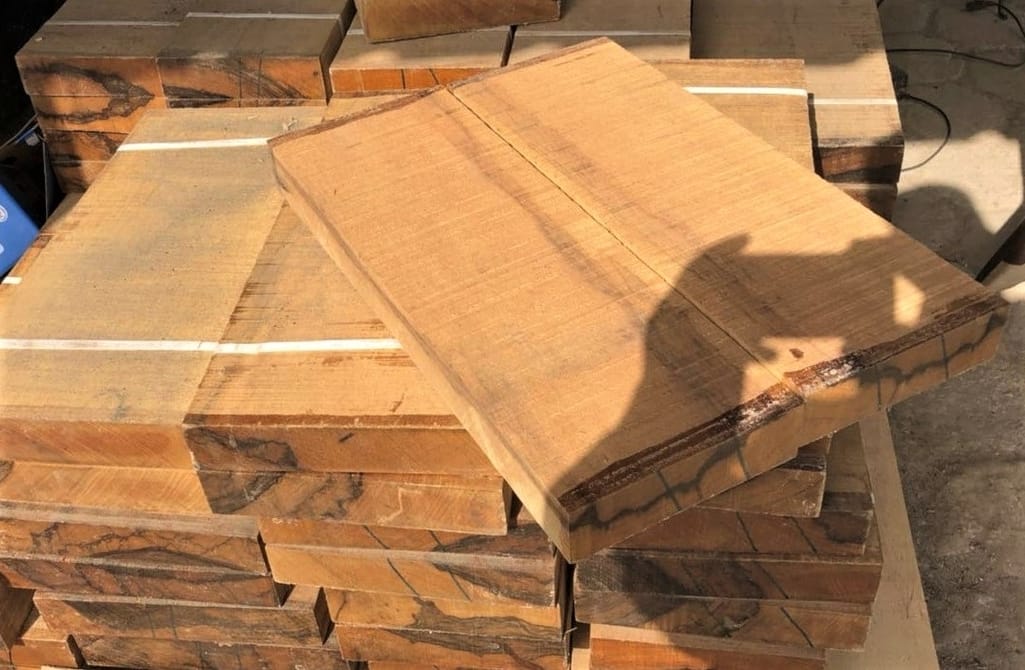 And we'll be installing Jescar Jumbo Stainless Steel frets on the scalloped Ebony fretboard: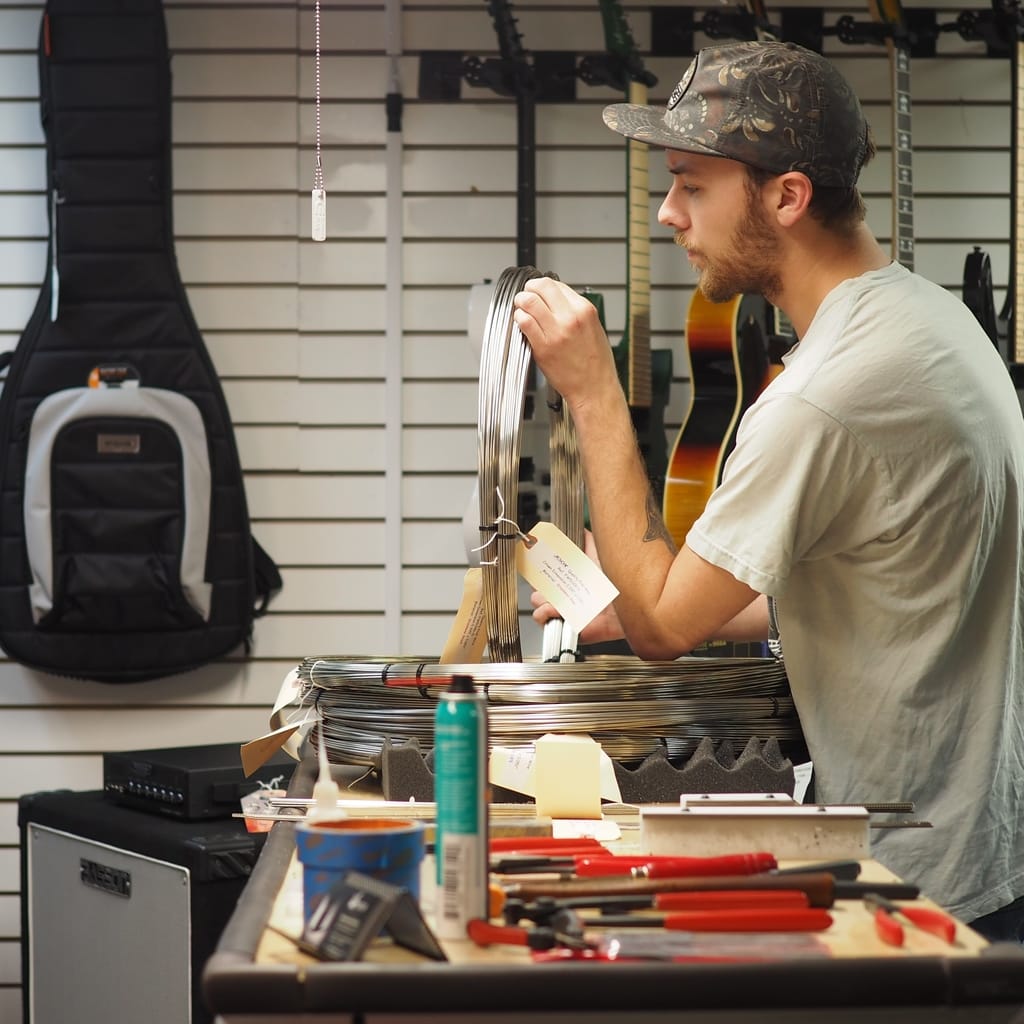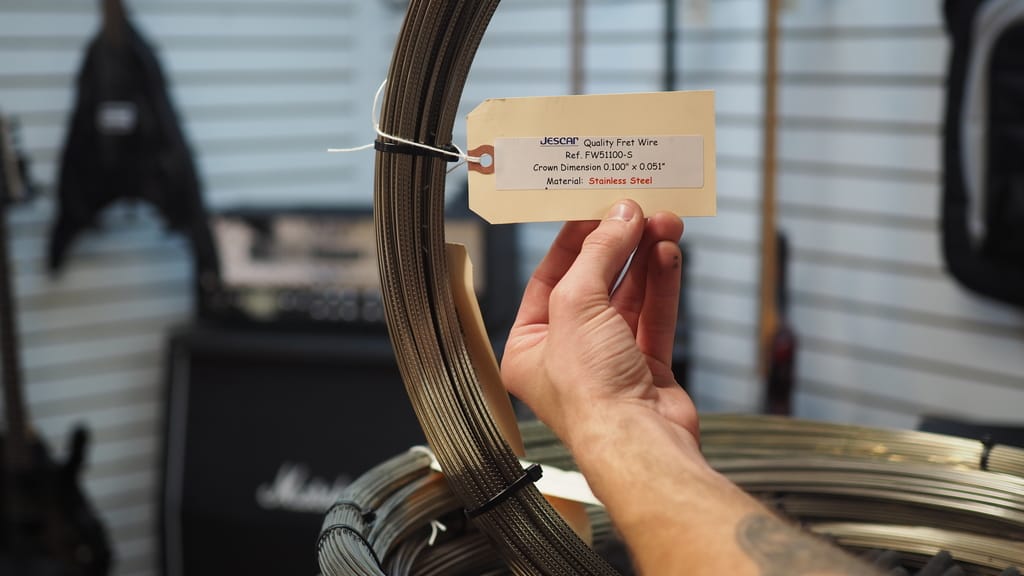 But before all that, we need to study the full specs of the build and communicate with the winner, Luke, any concerns or suggestions we might have with the specs. We do this with all our customers just to make sure the final product truly delivers on every level. It's also a good opportunity to make any final tweaks as we can all be a little indecisive at times ;)
Full Specs for reference:
GENERAL
Dexterity
Right Hand
Construction Method
Bolt On
Strings
7

Tuning
B.E.A.D.G.B.E
Scale Length
28"
BODY
Body Shape
MERUS
Contour
Forearm & Tummy Cut
Wood/Material
Black Limba Body with Poplar Burl Top & Back

Body Finish (Top)
Natural (Satin)
Body Finish (Sides/Back)

Natural (Satin)

NECK
Headstock Shape
Reverse Inline

Wood/Material
13-Piece Maple/Walnut
Fingerboard

Ebony with 16" Radius, Half Scalloped

Headstock Finish
Natural (Satin)
Neck Finish
Natural (Satin)
Frets/Size
Jescar, Jumbo, 24, Stainless Steel

Inlays
None
Side Dots
Luminlay

Fingerboard Binding
Maple with Purfling (Black/White/Black)
Nut

Zero Fret with GraphTech Black TUSQ XL String Guide

COMPONENTS
Hardware Color
Black
Bridge System
TOM String Through Body

Tuners
Locking
Pickups
Bare Knuckle Aftermath (Bridge); Bare Knuckle Juggernaut (Neck)

Control Pattern
1 Volume & 3-Way Toggle Switch
Knobs
Dome
Case
Halo Custom Fitted Hard Case
More updates to come...
Thanks for reading!
FIRST UPDATE
Luke and I needed a couple weeks of back and forth before finalizing the specs for his custom build. We made changes to the headstock color, headstock logo color, headstock binding, fretboard binding, neck back color & finish, body contour, body binding, body top and back wood, and the pickups. The changes were minor as the overall framework of the guitar is still essentially the same.
Here are some photos of the 2-piece solid Black Limba (aka Black Korina) body blank on our old, trusty jointer.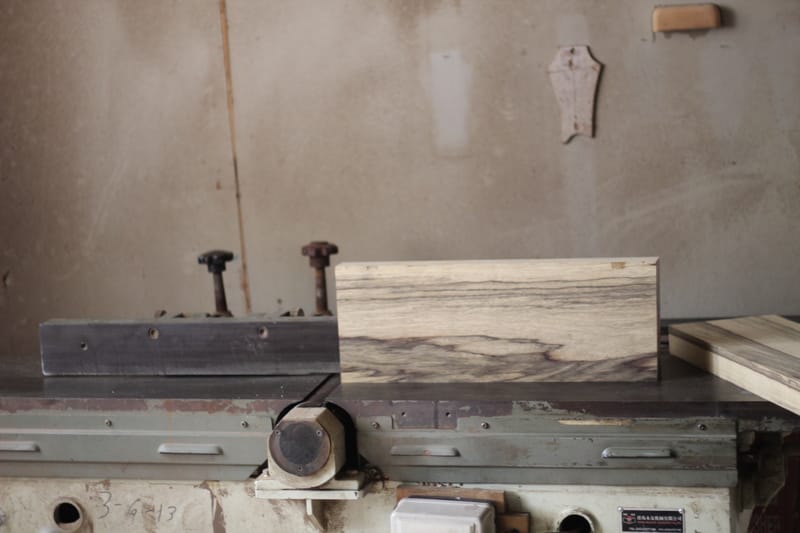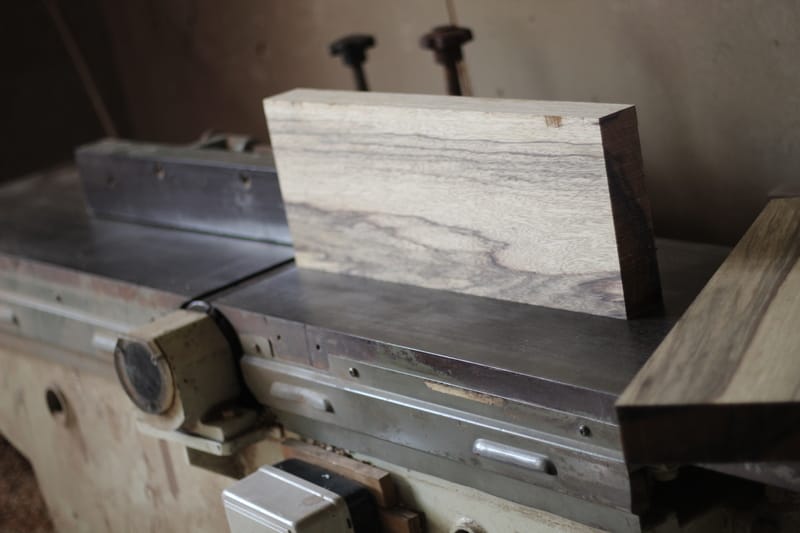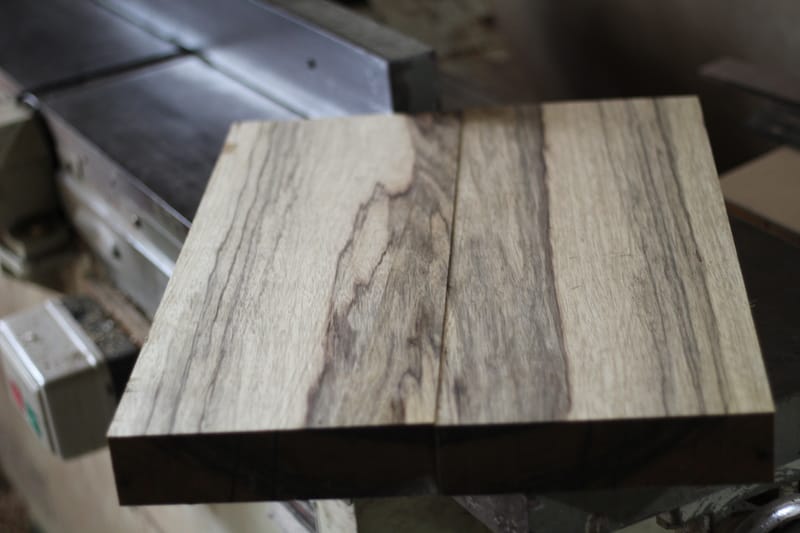 And here's a photo of the Ebony fretboard just laying on our CNC machine. We use the CNC to precisely mark the fret slot positions because it is a critical part to get right!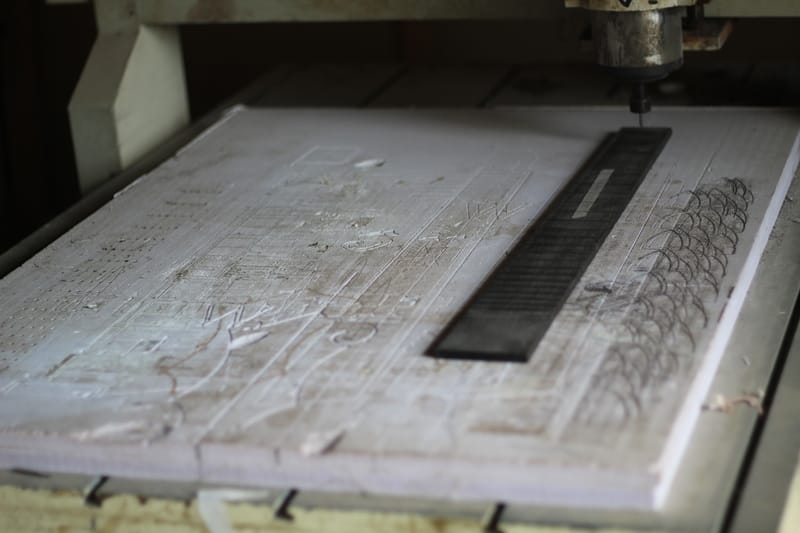 Here are some of the components that'll go into this custom guitar: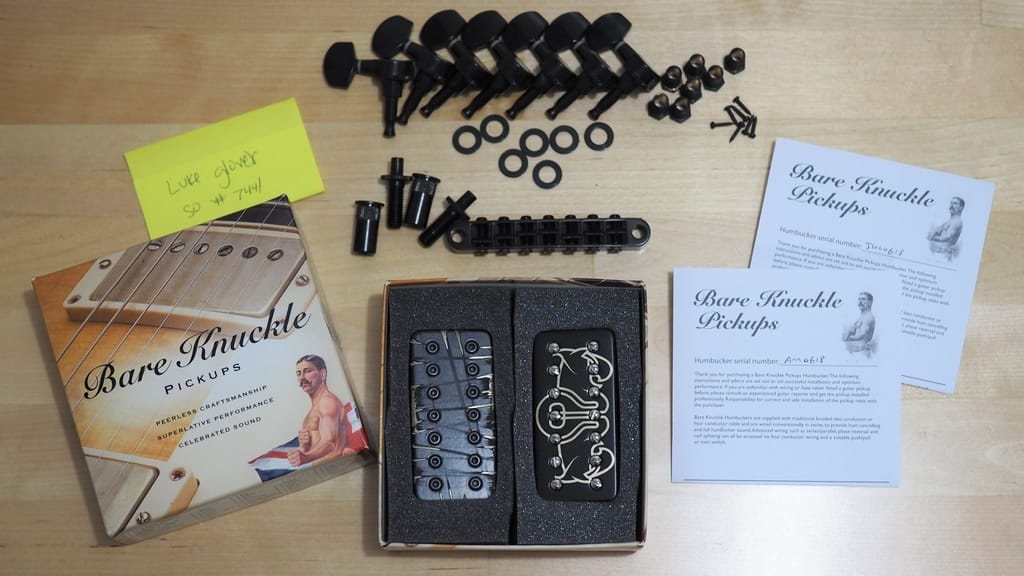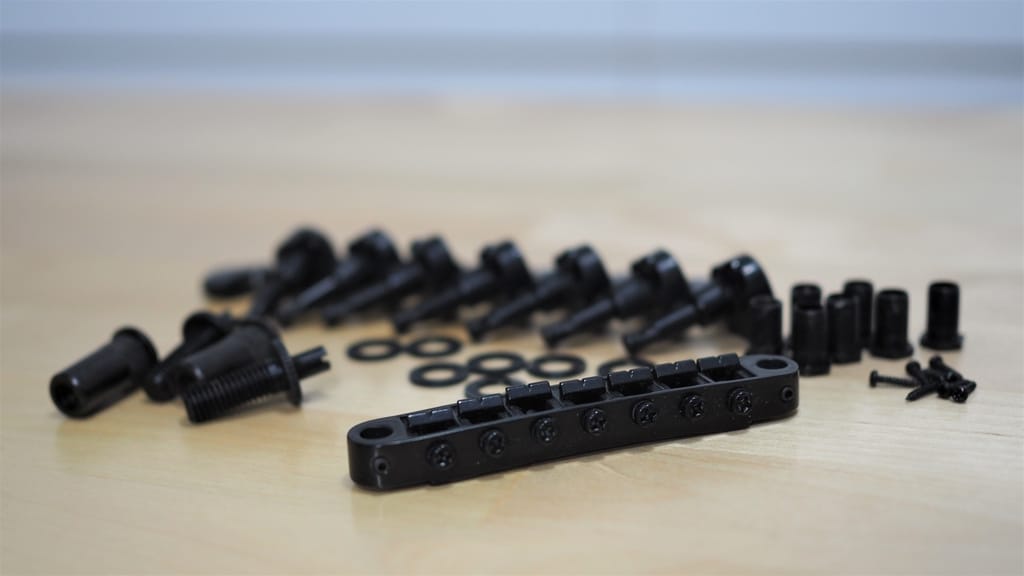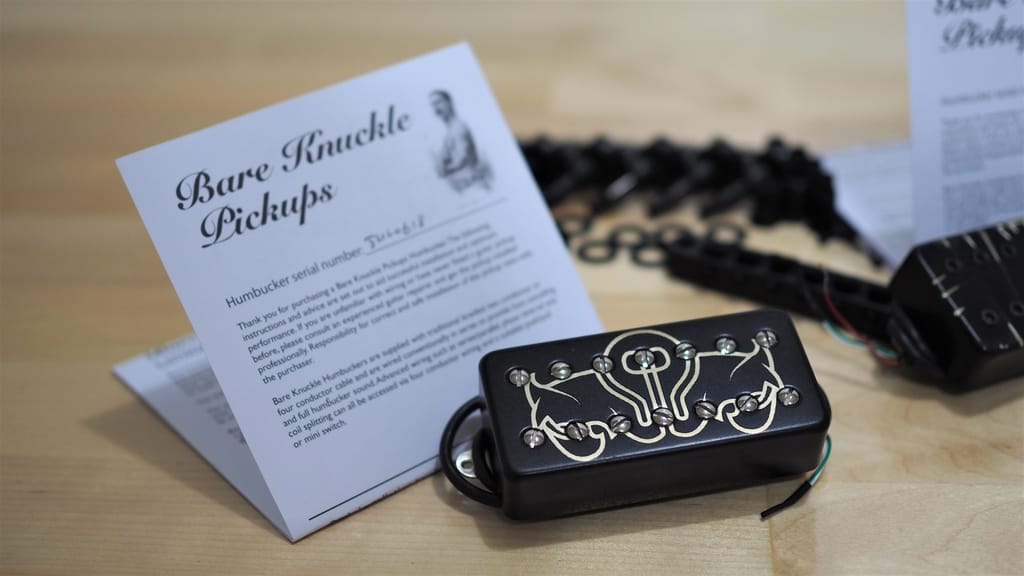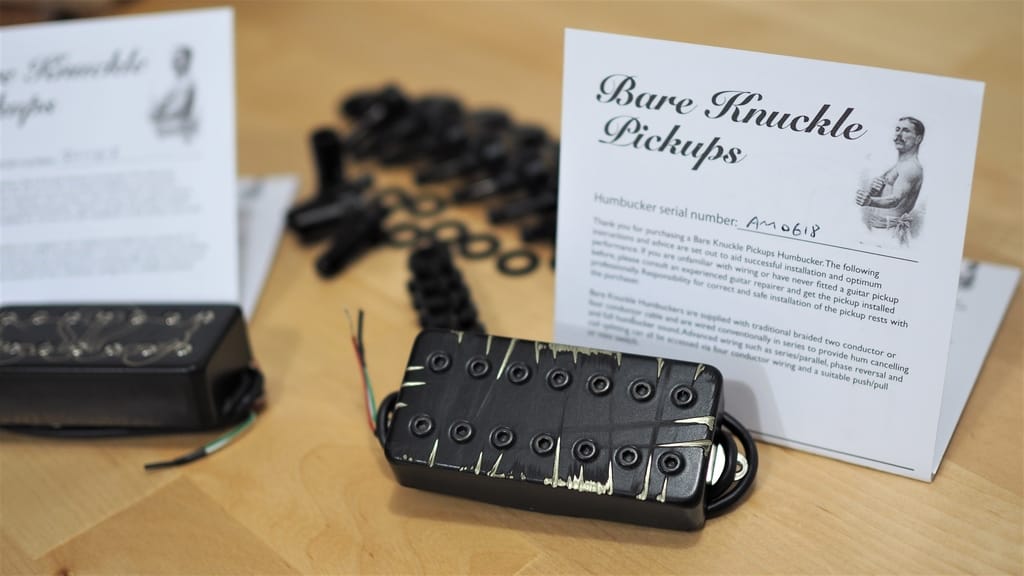 More updates to come regarding the build... but we also looked into all the other sweepstakes entries to learn which options were the most popular in 10 key areas (see below).
Can you guess what the most popular options were?
Leave a comment at the bottom of the blog article with your guesses!
We'll reveal the answers in a future update.

10 Key Areas:

Body Shape
Number of Strings
Body Top Color
Body Core Wood
Body Top Wood
Bridge
Bridge Pickup
Neck Construction Method
Hardware Color
Headstock Shape
That's all for now!

- Jeff Lee, Halo Custom Guitars

SECOND UPDATE
Here's a mockup of a guitar utilizing the most popular options in 10 key areas (following up from the first update above):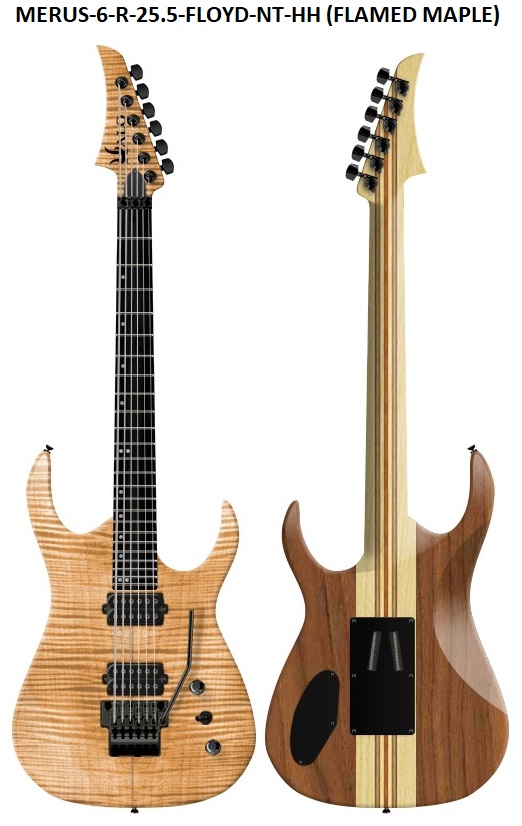 Most popular Body Shape: MERUS
Most popular Number of Strings: 6
Most popular Body Top Color: Natural
Most popular Body Core Wood: Mahogany
Most popular Body Top Wood: Flamed Maple
Most popular Bridge: Floyd Rose Original
Most popular Bridge Pickup: Bare Knuckle Juggernaut
Most popular Neck Construction Method: Neck Through Body
Most popular Hardware Color: Black
Most popular Headstock Shape: Reverse Inline

Okay, back to Luke's custom build...
We got the body shape routed and some more work done on the neck: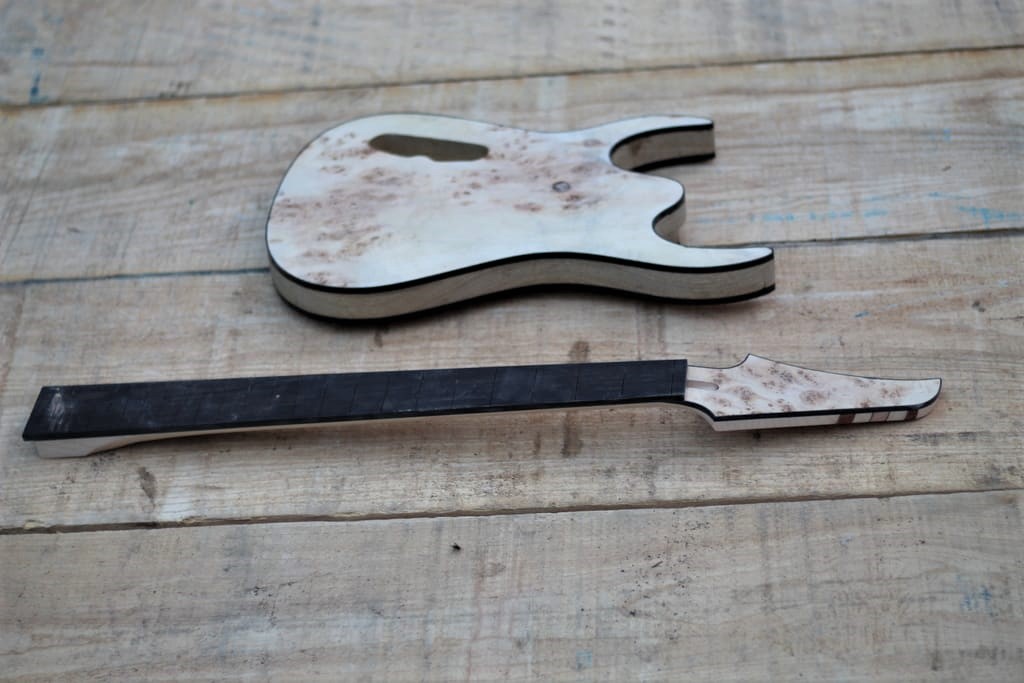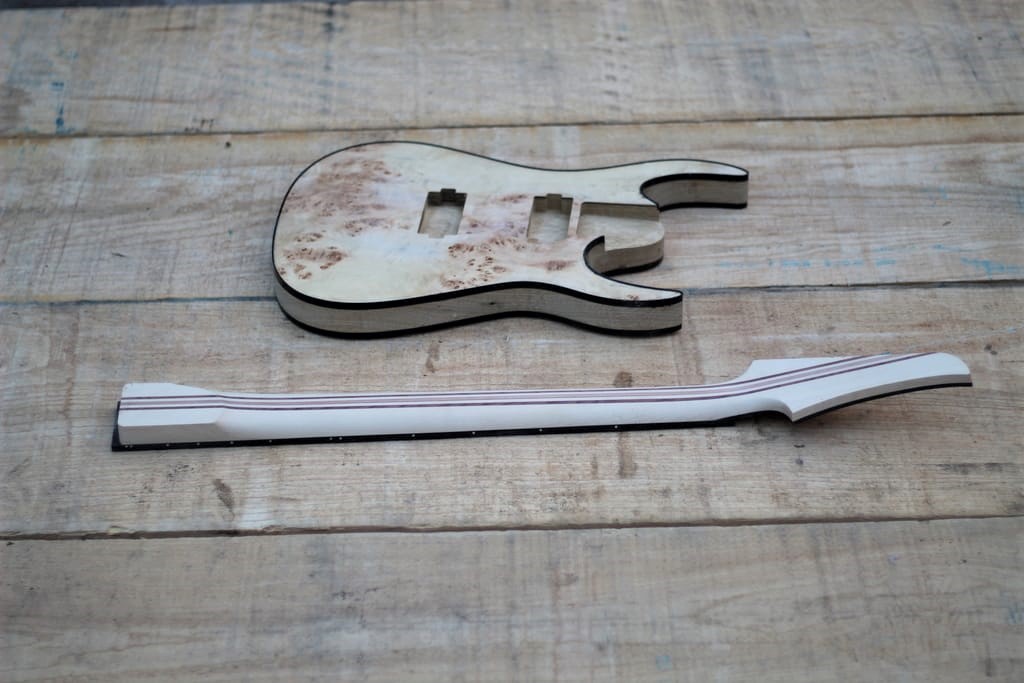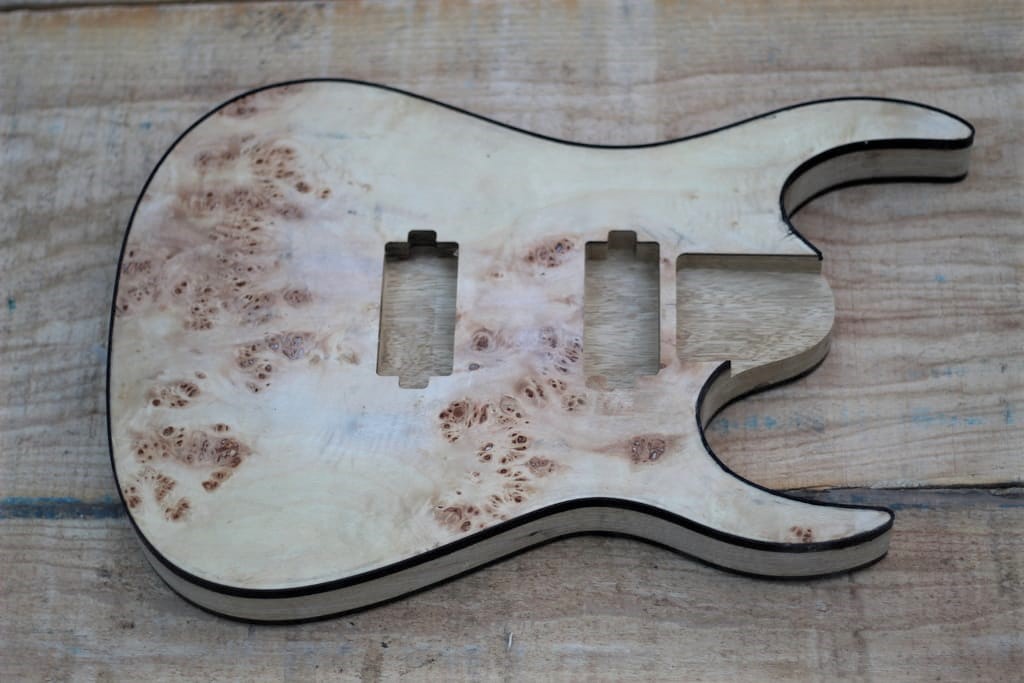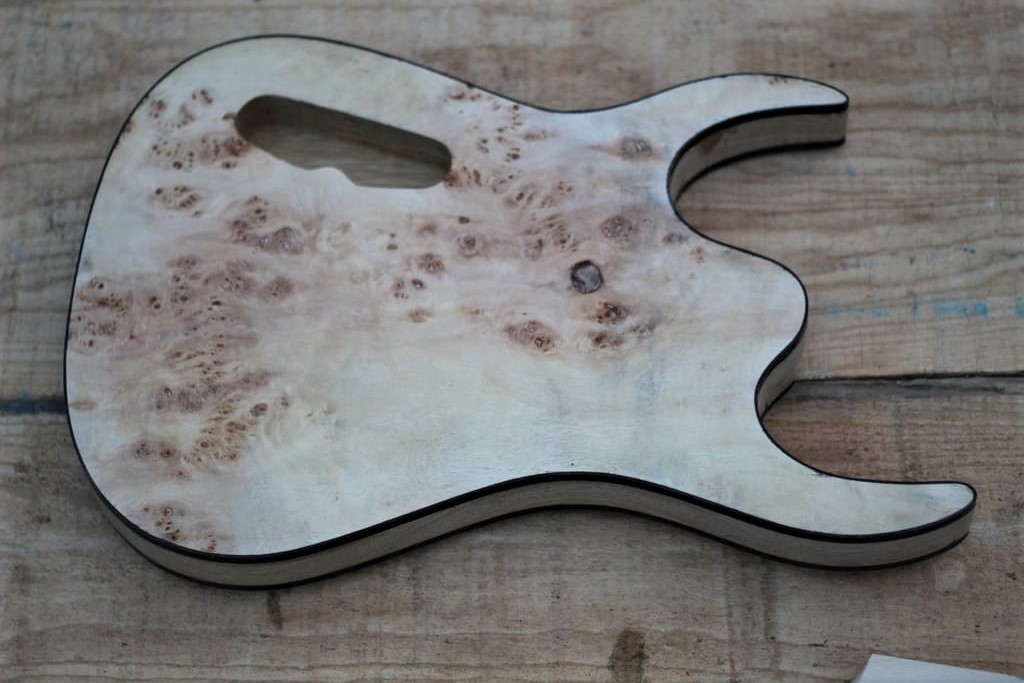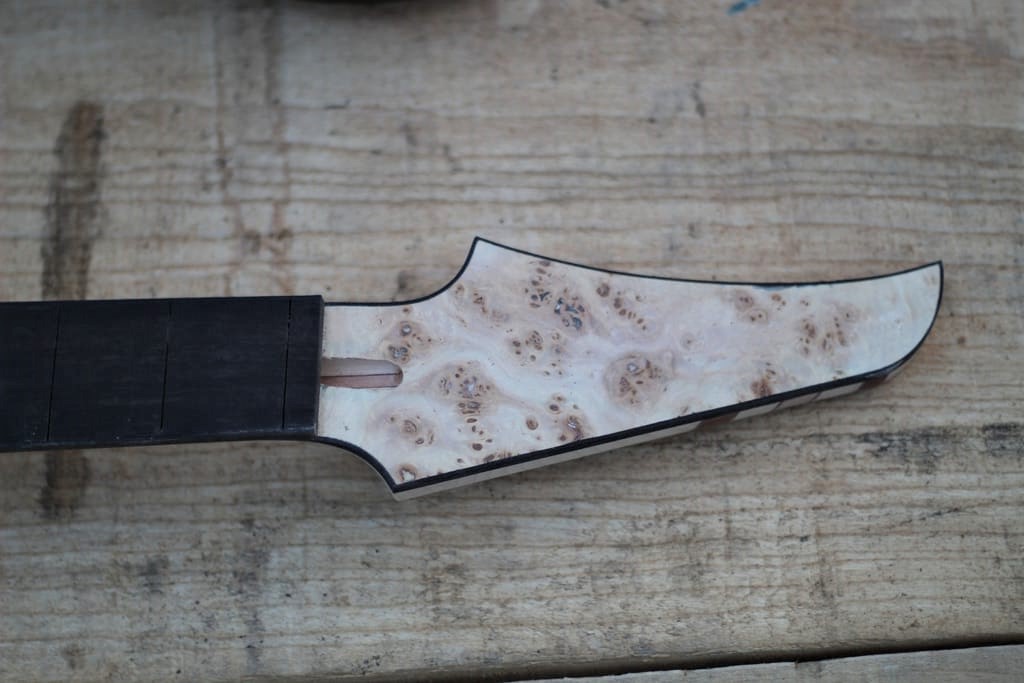 That's all for now - will post another update later. Thanks!
- Jeff Lee, Halo Custom Guitars
FINAL UPDATE
Alright, we got Luke's guitar out of the spray booth and into the final assembly stage where we install hardware, electronics and perform final setup adjustments prior to shipping.
Bare Knuckle pickups always seem to come with a set of RotoSound strings: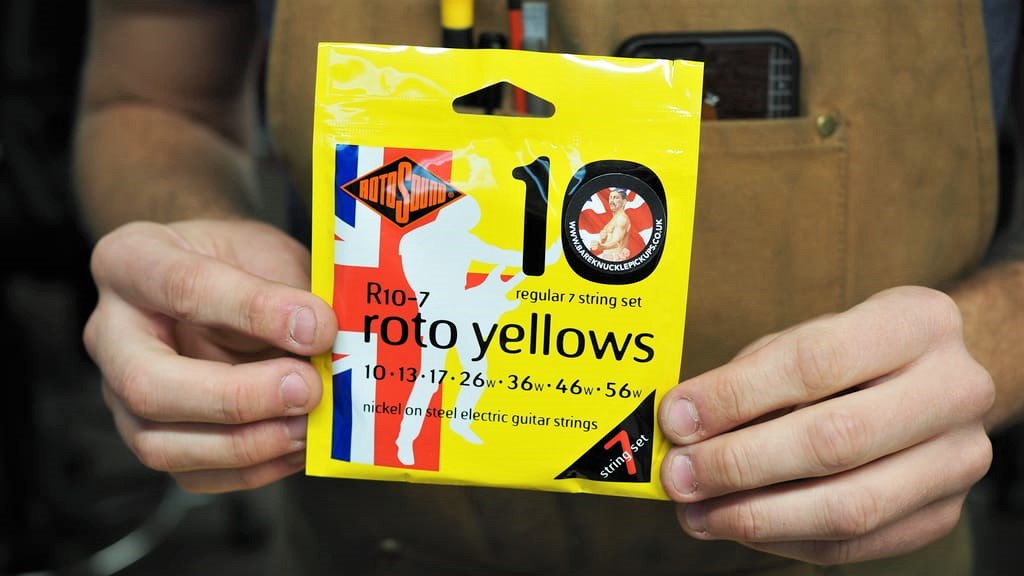 Soldering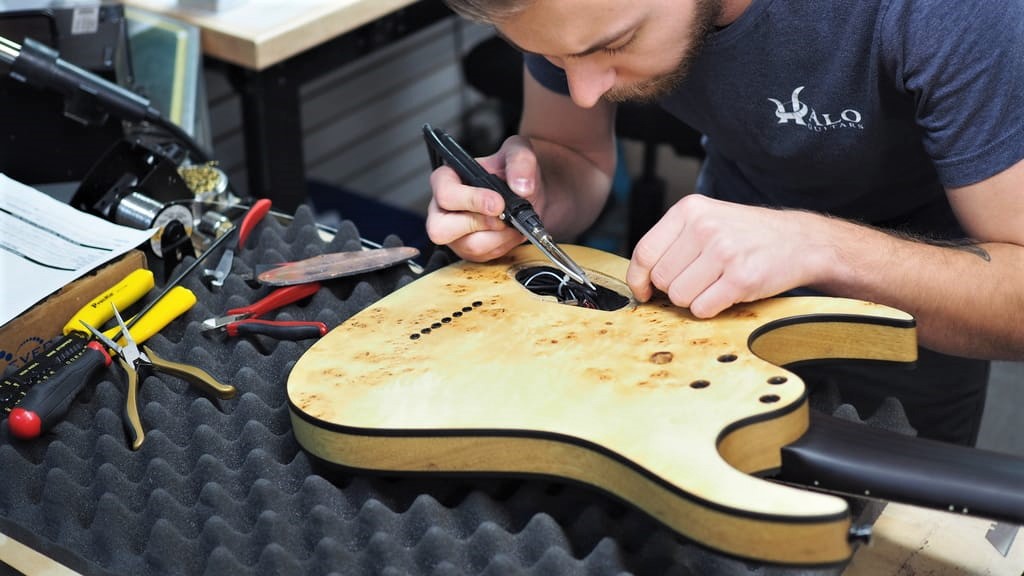 Checking neck relief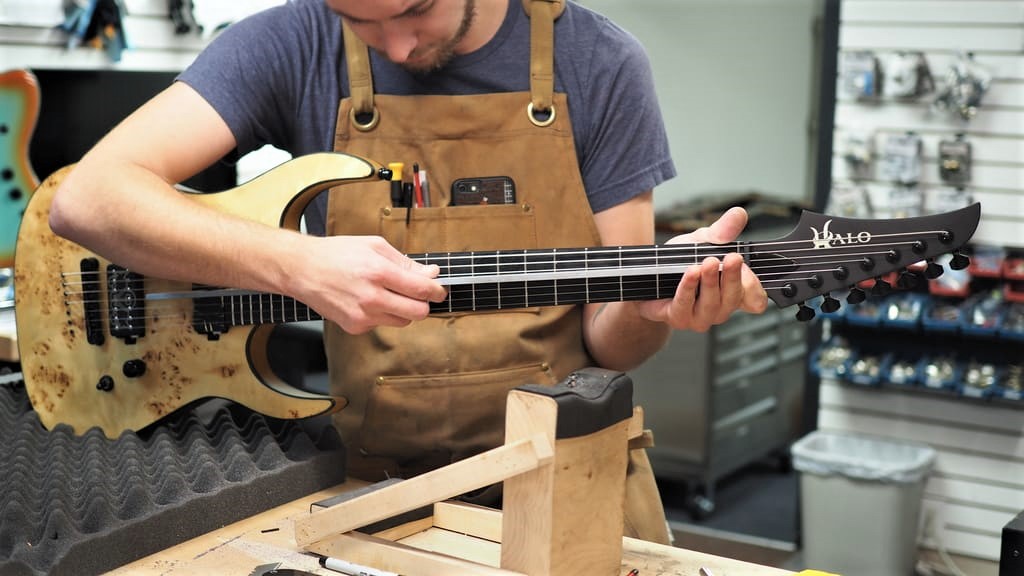 Checking neck relief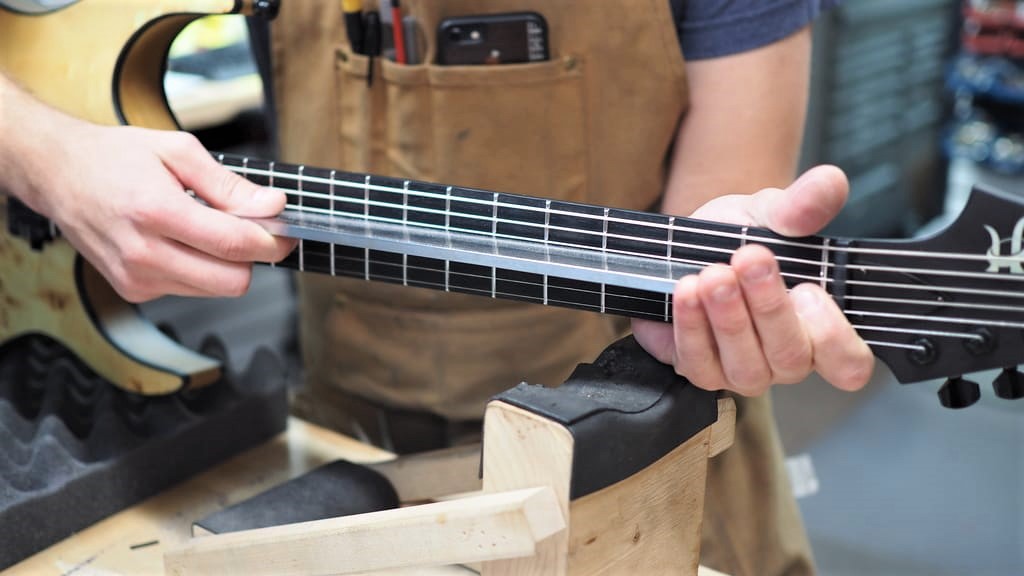 Making final adjustments to string height (action)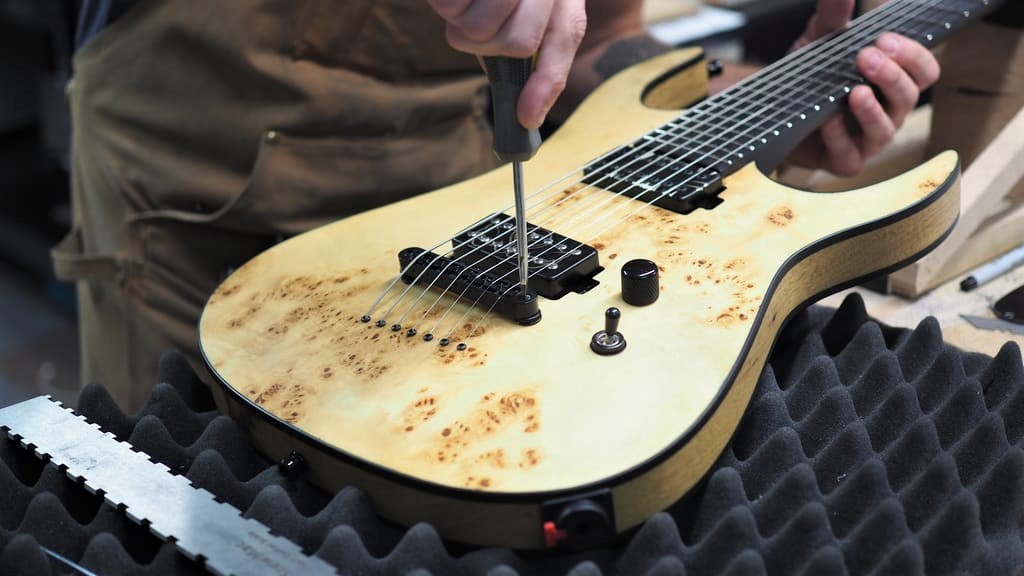 Ready to ship!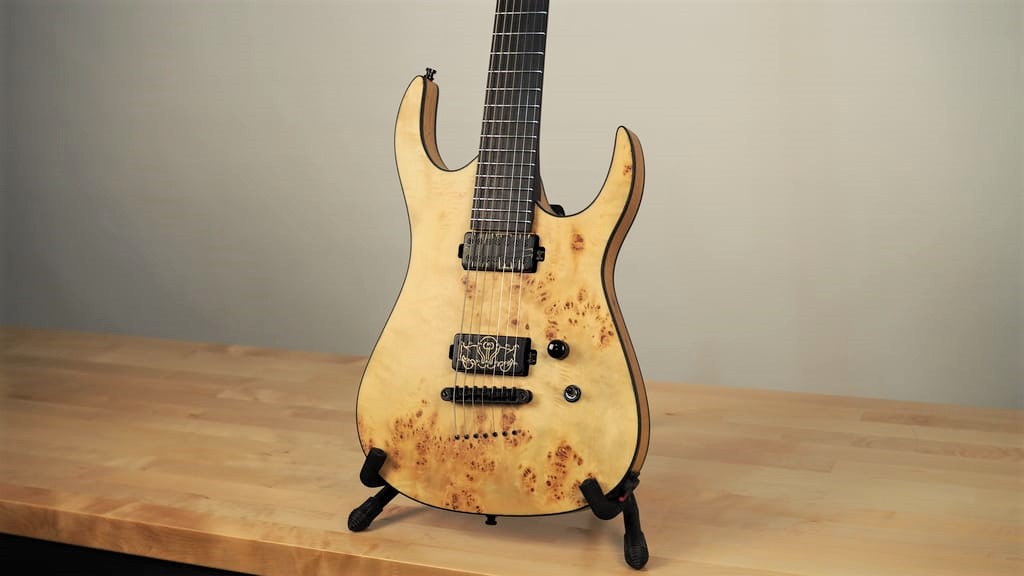 Here's Luke with his Halo!
"I just received the guitar and I cannot express how much I love it! It's perfect, it sounds perfect and it's just everything I could have dreamed of and more! Thank you so much and the team at Halo Custom Guitars!"